携帯サイト
♪Shop
8,800 円
COMING SOON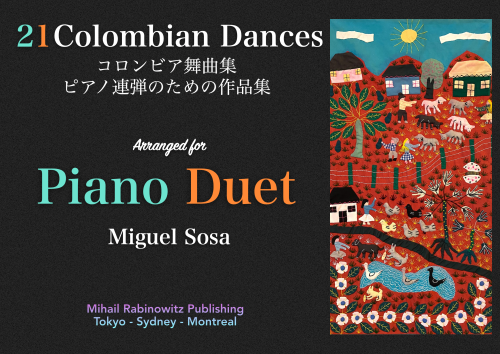 Contents
1. Loco Carnaval ・ Pasillo
   賑やかな祭り ・ パシージョ
Guillermo Quevedo ・ ギエルモ・ケベド
2. Patria ・ Bambuco
   祖国 ・ バンブコ
Manuel J. Bernal ・ マヌエル・J・ベルナル
3. 13 de marzo ・ Pasillo
   3月13日 ・ パシージョ
Carlos Escamilla ・ カルロス・エスカミラ
4. Bambuco en si menor・Bambuco en 6/8
   バンブコ ロ短調
Adolfo Mejía ・アドルフォ・メヒア
5. Adiós a Bogotá・Danza
   さよなら ボゴタ・ダンス
Luis Antonio Calvo ・ ルイス・アントニオ・カルヴォ
6. Ay, sos camisón rosao ・Joropo
   優柔不断な人 ・ ホロッポ
Bonifacio Bautista ・ ボニファシオ・バウティスタ
7. Rumichaca・Bambuco
   ルミチャカ ・ バンブコ
Emilio Murillo ・ エミリオ・ムリーリョ
8. Pierrot・Pasillo
   ピエロ ・ パシージョ
Pedro Morales Pino ・ ペドロ・モラレス・ピノ
9. Latigazo・Pasillo
   鞭打ち・パシージョ
Pedro Morales Pino ・ ペドロ・モラレス・ピノ
10. El escandaloso ・Pasillo
   うるさい人 ・ パシージョ
Gerardo Rangel ・ ヘラルド・ランヘル
11. Marcha Andina・March
   アンデスのマーチ・マーチ
Guillermo Quevedo ・ ギエルモ・ケベド
12. Juguete ・ Pasillo
  おもちゃ・パシージョ
Carlos Escamilla ・ カルロス・エスカミラ
13. Ante el micrófono・ Bambuco
  マイクの前は緊張するね・バンブコ
Milciades Garavito ・ミルシャデス・ガラヴィート
14. Brisas del Pamplonita・ Bambuco
   パンプロニタ川の風 ・バンブコ
Elías Mauricio Soto ・ エリアス・マウリシオ・ソト
15. Guabina Santandereána N.3・Guabina
   サンタンデルの踊り 第3番・グアビーナ
Lelio Olarte・レリオ・オラルテ
16. San Pedro en el Espinál・Bambuco
   エスピナルの聖ペトロ・バンブコ
Milciades Garavito ・ミルシャデス・ガラヴィート
17. Lejanía・Pasillo lento
   彼方へ・パシージョ
Pedro Morales Pino ・ ペドロ・モラレス・ピノ
18. Anita, la Bogotanita・Pasillo
   ボゴタの子 アニタ・ パシージョ
Terig Tucci ・テリッグ・ツッチー
19. A mis colégas・Bambuco
   同僚たちへ ・バンブコ
Victor Manuel Guerrero ・ビクター・マヌエル・ゲレロ
20. No lo creas!・Pasillo
   どうか信じないでね!・パシージョ
Aurelio Vasquez Pedrero ・アウレリオ・バスケス・ペドレロ
21. Anhelos・3 Valses
   あこがれ ・ワルツ
Luis Antonio Calvo ・ ルイス・アントニオ・カルヴォ
Product description
The Rabinowitz Foundation and Costa de la Música, Japan, are proud to present the book, "21 Colombian Dances arranged for piano duet."
This collection of 21 dances from the Andean region of Colombia was compiled for the purpose of disseminating music from Colombia to an international audience. The genres represented include bambucos, pasillos, marcha, danza, joropo and vals. The musical texts were reconstructed from manuscript fragments, LP recordings, wax discs, as well as sheet music and first editions of melodies that appeared in printed magazines in Colombia during the first half of the 20th century.
The arrangements follow stylistic norms customary to four-hand piano paying found in scores written during the second half of the 19th century. Pianists will appreciate the complexities that result when Creole rhythmic structures are combined with European-style melodies and forms.
Release date: 2023/09/14
21 Colombian Dances arranged for Piano Duet
arranged by Miguel Sosa
2nd Edition, 2023
Mihail Rabinowitz Music Publishing Co. Tokyo, Sydney, Montreal
248 pages
ISBN 978-4-9911589-2-6
Descripción del producto
Las Fundaciónes Rabinowitz y Costa de la Música, Japón, se complacen en presentar el libro, "21 Danzas colombianas para piano a cuatro manos."Esta colección de 21 danzas de la región andina de Colombia fueron escritas con el propósito de difundir música de Colombia entre el público internacional. Los géneros representados incluyen bambucos, pasillos, marcha, danza, joropo y vals. Los textos musicales fueron reconstruidos a partir de fragmentos de manuscritos, grabaciones de discos en LP, discos de cera, así como partituras y primeras ediciones de melodías que aparecían en revistas impresas en Colombia durante la primera mitad del siglo XX.
Todos los arreglos fueron escritos siguiendo las normas de estilo de la música para piano a cuatro manos escrita durante la segunda mitad del siglo XIX. Quienes interpreten estas obras podrán apreciar las complejidades que resultan cuando se combinan estructuras rítmicas criollas con melodías y formas de estilo europeo.
En venta a partir del 14 de Septiembre de 2023
21 Colombian Dances arranged for Piano Duet
arranged by Miguel Sosa
2nd Edition, 2023
Mihail Rabinowitz Music Publishing Co. Tokyo, Sydney, Montreal
248 pages
ISBN 978-4-9911589-2-6